Republican Florida Gov. Ron DeSantis on Monday waded into a major political contest beyond his expected entry into the 2024 presidential election as he threw the weight of his growing popularity behind former U.N. Ambassador Kelly Craft in the contentious race to try and unseat a red-state Democratic governor.
"Hello, this is Governor Ron DeSantis, coming to you from the free state of Florida. You've had a woke, liberal governor who's put a radical agenda ahead of Kentuckians. The stakes couldn't be higher. I know what it takes to stand up for what's right, and Kelly Craft's got it. She's proven it," DeSantis said in a recorded statement shared with Fox News Digital.
"I'm strongly encouraging you to go out and vote for my friend, Kelly Craft. Kelly shares the same vision we do in Florida. She will stand up to the left as they try to indoctrinate our children with their woke ideology. Kelly will fight against crazy ESG policies that are trying to end the coal industry in Kentucky. And Kelly's going to do everything in her power to end the fentanyl crisis that is hurting Kentucky families," he said.
"When you vote tomorrow, Tuesday, May 16th, vote for my friend, Kelly Craft, and get Kentucky on the path to becoming a free state like Florida," he added.
In a statement, Craft said she was "honored and grateful" to have DeSantis' support, and praised his leadership of Florida.
"He sets the example for Republican leaders around the nation because he delivers bold, conservative results. Kentucky needs to look more like Florida instead of California, and I look forward to ushering in a new generation of conservative leadership as Governor of Kentucky," she said.
DeSantis' last minute endorsement of Craft ahead of Tuesday's up-in-the-air Republican primary pits him squarely against former President Donald Trump, who is putting the power of his own endorsement to the test for the first time since the failure of a number of his endorsed candidates in the 2022 midterm elections.
Trump backed Craft's opponent, Kentucky Attorney General Daniel Cameron, early on in the race, but stuck with his choice upon Craft's entry despite her service first as his ambassador to Canada, and then his U.N. ambassador after the resignation of now-Republican presidential candidate Nikki Haley.
The former president held a tele-rally in support of Cameron earlier this week, but hasn't opted to appear in person despite the race being widely viewed as a bellwether for Republican chances at taking back the White House and Senate in 2024.
DeSantis is the latest high-profile figure to endorse Craft following Republican presidential candidate Vivek Ramaswamy, former Secretary of State Mike Pompeo and Sen. Ted Cruz, R-Texas, officially announcing their support for her in recent days. Craft is also being backed by House Oversight Committee Chairman Rep. James Comer, R-Ky., and National Border Patrol Council President Brandon Judd.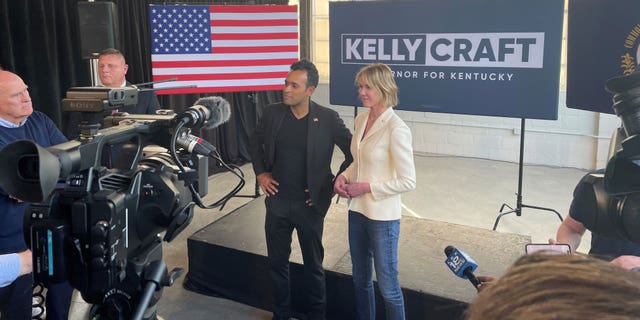 Republican presidential candidate Vivek Ramaswamy campaigns for former U.N. Ambassador Kelly Craft as she seeks the Republican nomination for governor of Kentucky on Monday, May 15, 2023, in Lexington. 
Craft and Cameron are facing a crowded field of 10 other Republican candidates, including Kentucky Agriculture Commissioner Ryan Quarles, who has been endorsed by a commanding portion of Kentucky's farmers and 235 local elected officials, including one-third of all county judge executives.
The winner of Tuesday's contest will go on to face Democratic Gov. Andy Beshear in the November general election.
Source : Fox News