A senior US politician has declared Australia will receive the "highest-quality" Virginia-class nuclear submarines, vowing the United States will not be "foisting off clunkers" to its ally.
A long-awaited joint announcement about the AUKUS plan will be unveiled in San Diego on Monday by Prime Minister Anthony Albanese, US President Joe Biden, and British Prime Minister Rishi Sunak.
It will involve the US agreeing to supply Australia submarines from its own fleet or construction schedule, as America's two production lines ramp up work to meet local demand.
There are widespread international media reports Australia will buy up to five Virginia-class submarines from the early 2030s as a stopgap, before building a new generation UK-designed boat under a multi-billion-dollar deal.
Democratic US Congressman Joe Courtney was asked on the ABC's Insiders if Australia will get second-hand US nuclear-powered submarines, or newly built ones.
"What I will tell you is what you will get is of the highest quality," he said.
"The shelf life of a Virginia Class submarine is 33 years.
"No one is going to be foisting off clunkers on good friends and allies."
The three countries first announced the AUKUS plan in 2021, as part of moves to counter Chinese influence in the Indo-Pacific region.
The deal was controversial, as Australia ditched a $90 billion project to construct French designed submarines.
It also has raised concerns from former prime ministers Malcolm Turnbull and Paul Keating that acquiring nuclear submarines will undermine the nation's sovereignty.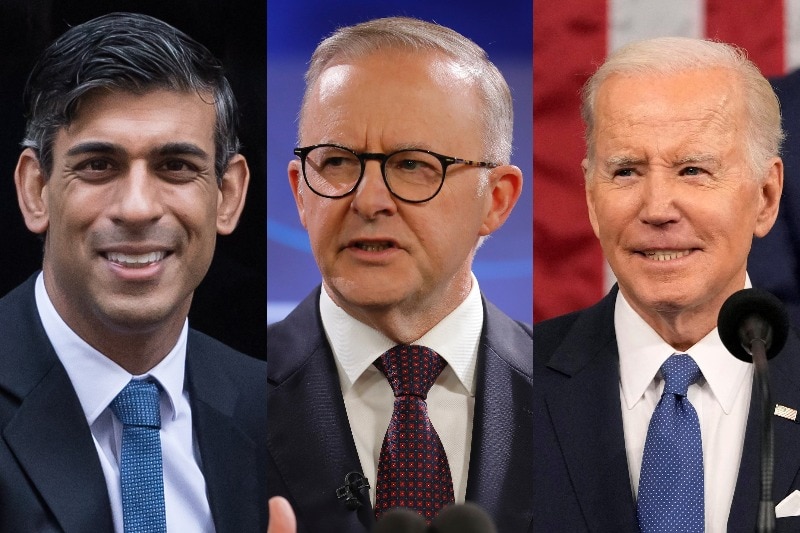 However, Mr Courtney, who is a member of US Congress' Armed Services Committee and chair of its Seapower and Projection Forces Subcommittee, dismissed that notion.
"There is already existing collaboration between the Australian submarine force and the US submarine force. I've seen it personally and no-one questions about who is the decision-maker in terms of how your subs operate," he said.
"There will be some moments, I'm sure, when Australian sailors will be on board Virginia class submarines, but that's going to be for training purposes, that's not for operational missions."
Mr Courtney also downplayed suggestions the submarines may have to be jointly crewed with US sailors, raising questions about who personnel answer to in the event of a disagreement.
"I think the notion that there is going to be joint crewing is really over-hyped," he said.
"Everyone understands we need to train up the Australian sailors and officers in terms of nuclear propulsion, which is all we're talking about here, not nuclear weapons.
"When the time comes for the deed, the title, to be handed to the government of Australia of a vessel, that again it is going to be totally with the full understanding that it is going to be under Australian control."
Mr Albanese has repeatedly insisted Australia will retain absolute sovereignty over its future nuclear-powered submarines.
Australian workers required to contribute to production: Courtney
Mr Albanese on Saturday said the AUKUS plan was "about jobs" with South Australia and Western Australia in particular being big beneficiaries of the announcement.
Mr Courtney claimed Australian workers would be required to contribute to production capacity.
"No question about it and we welcome it and I think it will benefit Australia in terms of really getting a workforce, that will have the skill set to build its own subs and that's what I think everyone really wants to see happen," he said.
The AUKUS pact has bipartisan support, with Coalition frontbencher Julian Leeser telling Sky News that the Liberal Party is in "lock step" with the federal government.
"We are experiencing the most difficult and challenging strategic environment in our history," he said, arguing the deal was critical to ensuring Australia could defend its coastline and create jobs.
"We want to ensure that the submarines are delivered in a timely manner and that they are properly resourced.
"We've got to ensure that we have the capability to meet the challenges that we face."
Source : News