Federal prosecutors sought what would have been the longest sentence to date — 15 years — for a Jan. 6 rioter who, defense lawyers say, "knew next to nothing" about the 2020 election.
WASHINGTON — A man who crushed D.C. Metropolitan Police Officer Daniel Hodges with a police shield on Jan. 6 was sentenced to seven-and-a-half years in federal prison on Friday.
Patrick McCaughey III, who was dubbed #ThePinman by online sleuths, was present during some of the worst violence inside the lower west tunnel, the spot where presidents emerge during inauguration ceremonies. McCaughey was sentenced by Judge Trevor McFadden, a Donald Trump appointee who previously delivered the only full acquittal for a Jan. 6 defendant to date and has imposed more lenient sentences than other judges in the Capitol riot cases.
Federal prosecutors sought a sentence of more than 15 years — 188 months — in federal prison, which would have broken the record for the longest sentence in a Jan. 6 case: the 10-year sentence given to former New York City Police Department officer Thomas Webster.
McCaughey faced a bench trial before Judge McFadden alongside David Mehaffie of Ohio and Tristan Stevens of Florida. McCaughey was convicted on every count in September, was ordered detained after the verdict and has been in custody ever since. Mehaffie was sentenced to 14 months in federal prison, while Stevens was sentenced to five years at a hearing in which he rattled off a number of conspiracy theories.
McCaughey's legal team said that his actions were "motivated by a misunderstanding as to the facts surrounding the 2020 election" and that he "knew next to nothing about the 2020 election and listened to sources of information that were clearly false."
Prosecutors argued that a lengthy sentence was justified by McCaughey's violent actions on Jan. 6. They noted that McCaughey urged police to "go home" before scaling the scaffolding that had been set up for Joe Biden's inauguration. He then took a selfie photo that he sent to friends back home in Connecticut, before joining the mob in the tunnel and using the stolen police shield against Hodges.
Hodges, who has spoken out about being attacked during the Capitol riot, including before the Jan. 6 Committee, read a statement at Friday's sentencing.
"At a time when we are struggling to field enough police to maintain public safety, Mr. McCaughey took part in an assault that removed 50 officers from duty," Hodges said, according to the statement. "That's 50 officers that no longer have my back when I'm on a call, 50 officers that can no longer protect the city, and 50 officers that won't be there the next time a would-be dictator decides to try his luck against these United States."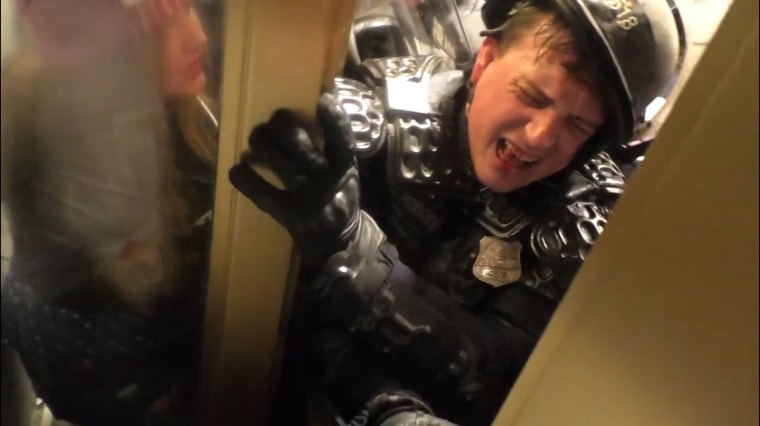 Hodges previously testified at trial about being crushed by the police shield.
"As there are so many people pushing forward on that one object, a hard object, unyielding, pushing into you, doing what it's designed to do, is repel a body, but being used on the police," Hodges testified. "It's much greater. It's inflexible. There's no good way to fight back against it, really. It just — you have to endure the pressure that it creates."
McCaughey, prosecutors argued, showed "an absolute disregard for the rule of law coupled with a willingness to incite and engage in violence." A lengthy sentence was also needed to "deter others from not only committing the crime but taking the stand and engaging in dishonesty."
In a letter to the court, McCaughey's sister wrote that her brother has been radicalized because of their father, who only played two TV channels in their home: "Fox News and Turner Classic Movies." Things "would get ugly" if you disagreed with the elder McCaughey, she wrote, writing that her father attempted "to convert everyone around him to the glory that was Donald Trump to him." McCaughey's sister noted that her brother's "entire livelihood depended on having a good relationship with my father."
Fox News, which has come up in several cases against Jan. 6 defendants, was sued by the voting machine company Dominion over its coverage of false claims about the company, and the case is currently headed to trial. Discovery in the case has revealed that many Fox News personalities knew at the time that Trump's claims about voter fraud were bogus.
"I believe my father's dedication to ignoring all issues that did not interest him, and his tendency to cut out those who disagreed with him forced my brother to adapt to his interests once again and therefore, radicalize himself too. I firmly believe that my brother would not have gone so far to the extreme without his need to cultivate a positive relationship with my father, and that he would not have been anywhere near the Capitol building on January 6, 2021 without my father's fervor about a 'stolen election,'" Maria McCaughey wrote.
"My little brother is an even keeled, intelligent, and odd person, but he is also just a kid who wants his dad to not only love him, but to like him, and he would do anything to make that happen," she added.
McCaughey's grandmother wrote that he told her "that he was a DUMMY to have been present on January 6th in Washington," while his mother noted that McCaughey's father was "a fervent Trump supporter and 'anti-masker'."
"His father was quite clear about his expectations that Patrick needed to conform to his wishes and Patrick also started to believe that the election was 'stolen,' that Trump was the solution for all woes of this country, and that all 'patriots' needed to show their support. My son would have not driven alone to the rally on January 6th," his mother wrote.
About 1,000 Jan. 6 rioters have been arrested by the FBI in the more than two years since the Capitol attack. Online sleuths have identified hundreds of additional rioters, including more than 100 who are currently featured on the FBI's Capitol Violence website. Authorities have indicated that roughly 1,000 additional cases could be brought forward before the statute of limitations expires in early 2026.
Earlier this week, a judge sentenced Logan Barnhart — a rioter who dragged a police officer down the steps of the Capitol on Jan. 6 — to three years in federal prison, while Robert Sanford — who assaulted officers with a fire extinguisher — received four years. Josiah Kenyon, who also assaulted law enforcement officers in the tunnel, was sentenced to six years.
CLARIFICATION (April 14, 2023, 2:12 p.m. ET): The headline of this article has been updated to remove a reference to McCaughey as a "Fox News viewer." His sister wrote to the court that their father watched only Fox and TCM, but did not explicitly say that McCaughey did as well.
Source : NBC News