Among the victims was college-bound football player Philstavious Dowdell, whose sister was celebrating her birthday, coaches and witnesses said.
Four people were killed and 28 others were injured in a shooting at a birthday party in Alabama on Saturday night, authorities said.
"There are 28 individuals who were injured during the course of the incident," Alabama Law Enforcement Agency Sgt. Jeremy Burkett said at a news conference Sunday evening. "Some of those injuries are critical."
Officials have not identified any of the deceased.
The party was for a cheerleader on campus, said Michael Taylor, a football coach at Dadeville High School.
The DJ for the party, Keenan Cooper, confirmed that information and added that the mother of the girl was struck and injured in the violence, which he said sounded like an attack with multiple shooters.
Police have not described anyone who may be responsible, and they have not used the plural form when speaking of any perpetrator.
"It's very horrific for the children," Cooper said of the attack. "Probably traumatizing. It was her 16th birthday party, and she lost her brother."
He said the party paused when someone with a gun was turned away. An hour later, Cooper said, gunfire rang out, and he grabbed as many teenagers as he could, about five, and had them hit the ground.
The mother was one of at least three parents present, Cooper said. "The building was packed," he said.
Taylor said the event had chaperones and security. Dadeville is tightly knit, he said, and such violence was previously unknown.
The incident occurred at 10:34 p.m. Saturday in the 200 block of Broadnax Street in Dadeville, Burkett said at an earlier news conference Sunday.
Authorities did not name the venue, but they did mention the location's onetime purpose as a bank, where Mahogany Masterpiece Dance Studio now stands.
On its Facebook page, the studio thanked those who have reached out with messages of healing and wishes for better days. It did not immediately respond to a request for comment.
Burkett asked the news media and the public to give families of the dead and injured some time and space to "allow them to recover from what they're enduring."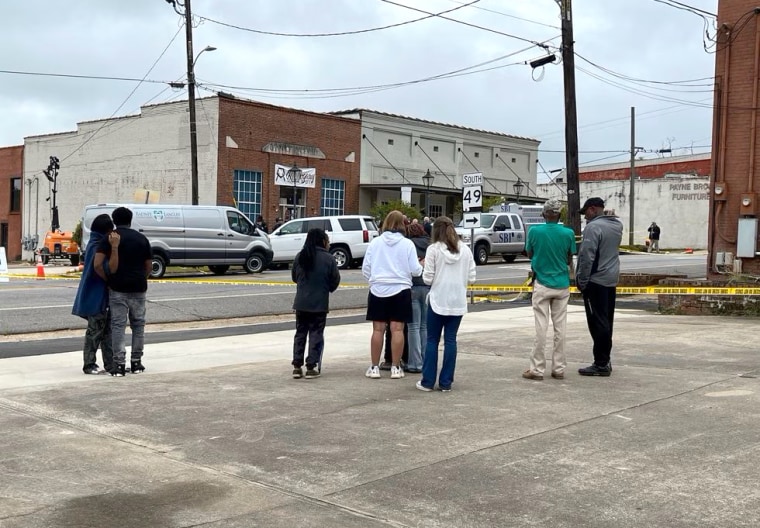 Burkett has not shared any information about what led up to the shooting or whether any suspects were in custody, saying Sunday evening the situation was "fluid." He said early Sunday evening that investigators were still trying to account for everyone who had been at the party.
The superintendent of Tallapoosa County Schools, Raymond Porter, who spoke at a news conference Sunday morning, said counseling will be provided to students Monday.
"We will make every effort to comfort those children, and don't lose sight of the fact that those are the ones most impacted by this situation," Porter said.
President Joe Biden was briefed on the shooting, which he said happened "at a teen's birthday party" in Dadeville, and is monitoring the situation, according to a note from his team. Biden and the White House have been in contact with law enforcement officers and local officials to offer support.
"What has our nation come to when children cannot attend a birthday party without fear?" Biden said in a statement released Sunday about the shooting in Alabama and another in Louisville, Kentucky. "When parents have to worry every time their kids walk out the door to school, to the movie theater, or to the park? Guns are the leading killer of children in America, and the numbers are rising — not declining."
Police Chief Jonathan Floyd described Dadeville, a city of slightly more than 3,000 people about 85 miles southeast of Birmingham, as "a tight-knit community full of wonderful people."
"What we've dealt with is something that no community should have to endure," Floyd said. "I just ask for your patience. It's going to be a long process."
Burkett said the investigation continues and encouraged anyone with information to come forward.
Alabama's governor shared her sympathy and frustration on Twitter.
"This morning, I grieve with the people of Dadeville and my fellow Alabamians. Violent crime has NO place in our state, and we are staying closely updated by law enforcement as details emerge," Gov. Kay Ivey said.
Source : NBC News