The two shootings occurred dozens of miles apart on Interstate 45, north of Houston.
Three motorcyclists were gunned down Friday in separate shootings dozens of miles apart in what authorities in Texas described as a "targeted" attack that appeared linked to an outlaw motorcycle gang.
A suspect was not identified in either shooting and remained at large Friday night.
In separate statements, the Huntsville Police Department and the Montgomery County Sheriff's Office said the victims, all men, were ages 32, 43 and 69.
A fourth person, 61, was injured in the second shooting, the police department said.
The gunfire first erupted on Interstate 45 in Spring, about 20 miles north of Houston, around 11 a.m., the sheriff's office said. Deputies who were dispatched to the scene learned a 32-year-old man had been shot and taken to a local hospital.
Initially the man was expected to survive but was pronounced dead at 3:30 p.m., the sheriff's office said.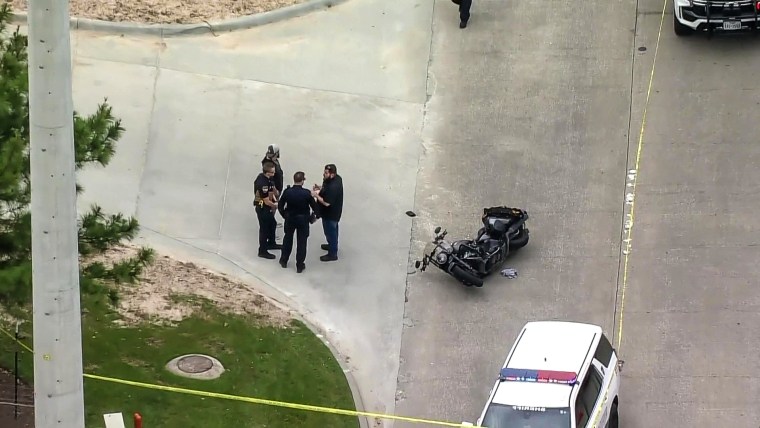 A little over an hour after the first shooting was reported, officers from multiple agencies responded to another shooting on the same interstate, this time south of Huntsville, nearly 50 miles north of Spring, the police department said.
Officers found three victims with gunshot wounds, the department said. Two were pronounced dead at the scene; the wounded victim was airlifted to a local hospital.
His condition was not immediately available.
The department said the three victims were wearing clothes linking them to an outlaw motorcycle gang. The statement did not provide additional details about their apparent affiliation with the group.
Investigators believe the shooting in Spring is related to the incident near Huntsville, the department said.
"A​​t this time we believe there is no threat to the general public as the shootings appear to be a gang related targeted attack," the department said. 
Source : NBC News