When Taiwan's President Tsai Ing-wen defied warnings from China to meet with US House Speaker Kevin McCarthy in California earlier this month, Beijing's aggressive military response reverberated around the world.
In actions that only fueled fears that communist-ruled China may be preparing to invade its democratically ruled neighbor, the People's Liberation Army simulated a blockade of the island, sending an aircraft carrier and 12 naval ships to encircle it, and flying over a hundred warplanes into its air defense identification zone during a three-day military drill.
China's ruling Communist Party, which claims Taiwan as part of its territory despite never having controlled it, described the drills as "joint precision strikes" that should serve as a "serious warning against the Taiwan separatist forces."
The message, in Taipei's mind, seemed clear. China appeared "to be trying to get ready to launch a war against Taiwan," the island's Foreign Minister Joseph Wu told CNN's Jim Sciutto.
That blunt assessment will likely have raised doubts in some quarters over whether the island's military preparations for such a scenario are sufficient.
Taipei recently – and very publicly – announced an extension to mandatory military service periods from four months to a year and accelerated the development of its indigenous weapons program to boost its combat readiness.
But analysts say a recent announcement – one that has perhaps gone less remarked upon in the global media – could prove a game-changer: talks between Taipei and the United States to establish a "contingency stockpile" of munitions on Taiwan's soil.
In remarks that were not widely picked up at the time, Defense Minister Chiu Kuo-cheng told Taiwan's parliament in March that Taipei was in discussions with the US over a potential plan to set up a war reserve stock on the island – a measure made possible by a provision in the 2023 National Defense Authorization Act (NDAA), signed into law by US President Joe Biden last December.
And while Taiwan has long been a purchaser of weapons from the US, military experts say the creation of such a stockpile could be vital to the island's defense because – as China's recently simulated blockade showed – it could be incredibly difficult to supply the island with additional weapons if war does break out.
Unlike Ukraine, Taiwan has no land borders so any supplies would have to go in by air or sea – delivery methods that would be highly vulnerable to interceptions by the Chinese military.
It is therefore vital for Taiwan to stock up ammunition on the island before any conflict begins, said Admiral Lee Hsi-min, who served as Chief of the General Staff for the Taiwanese military between 2017 and 2019.
"Having a war reserve stockpile is crucial and meaningful for Taiwan," he said. "Even if the United States does not want to intervene directly with military force, those kinds of stockpiles can still be very effective for our defense."
Taiwan has also repeatedly raised concerns about delays in US weapon deliveries amid the war in Ukraine. Following his meeting with Tsai, Speaker McCarthy tweeted: "Based on today's conversations, it's clear several actions are necessary: We must continue arms sales to Taiwan and make sure such sales reach Taiwan on time."
Patriot surface-to-air missile systems at Warsaw Babice Airport in the Bemowo district of Warsaw, Poland, on 06 February, 2023.Jaap Arriens/Nurphoto/Getty Images
Asymmetric Warfare
The talks over the possible stockpile beg the question: What exactly does Taiwan need for its defense?
For decades, the Taiwanese military has been purchasing fighter jets and missiles from the United States, which continues to be the single biggest guarantor of the island's safety despite not having an "official" diplomatic relationship.
Last month, the Biden administration made headlines with its approval of potential arms sales to Taiwan worth an estimated $619 million, including hundreds of missiles for its fleet of F-16 fighter jets.
But Admiral Lee said Taiwan urgently needed to stock up on smaller and more mobile weapons that would have a higher chance of surviving the first wave of a Chinese attack in an all-out conflict – which would likely include long-range joint missile strikes on Taiwanese infrastructure and military targets.
In a high-profile book published last year, titled "Overall Defense Concept," Lee argued that Taiwan should shift away from investing heavily in fighter jets and destroyers, as its military assets were already vastly outnumbered by China's and could easily be paralyzed by long-range missiles.
Last year, China's defense budget was $230 billion, more than 13 times the size of Taiwan's spending of $16.89 billion.
Admiral Lee Hsi-min, during an interview with CNN in Taipei, Taiwan.Eric Cheung/CNN
So instead of matching ship for ship or plane for plane, Lee argued, Taiwan should embrace an asymmetric warfare model focused on the procurement of smaller weapons – such as portable missiles and mines – that are hard to detect but effective in halting enemy advances.
"In Ukraine, their military has used Neptune anti-ship missiles to sink Moscow's battleships," he said. "Asymmetric weapon systems will allow us to maintain our combat capabilities. That is because if our enemies want to destroy them, they will need to get closer to us, which makes them vulnerable to our attack."
"If we can establish good enough asymmetrical capability, I believe China won't be able to take over Taiwan by force, even without United States' intervention," he added.
Though the US maintains close unofficial ties with Taiwan, and is bound by law to sell arms to the island for its self-defense, it remains deliberately vague on whether it would intervene in the event of a Chinese invasion, a policy known as "strategic ambiguity."
Portable weapons
Under this year's National Defense Authorization Act, passed by the US Congress and signed by US President Joe Biden, Taiwan will be eligible to receive up to $1 billion in weapons and munitions from the United States to counter China's growing military threat.
The act also allows for the creation of a regional contingency stockpile, which would enable the Pentagon to store weapons in Taiwan for use if a military conflict with China arises.
In a response to CNN for this article, a spokesman at Taiwan's Ministry of National Defense confirmed it is in discussions with the United States on the definition of a "contingency", the types of munition that can be operated immediately by its armed forces, and the timeline for shipping the items.
The ministry added that the move is aimed only at meeting Taiwan's defensive needs, as opposed to "pre-stocking" munitions on the island.
The US Indo-Pacific Command declined to provide details about the progress of talks on creating the stockpile but said it would continue to enable Taiwan to maintain a sufficient self-defense capability.
Meanwhile, China's Foreign Ministry told CNN that it "resolutely opposes" any military exchanges between the United States and Taiwan, adding that Beijing will take "all necessary measures" to defend its sovereignty and security interests.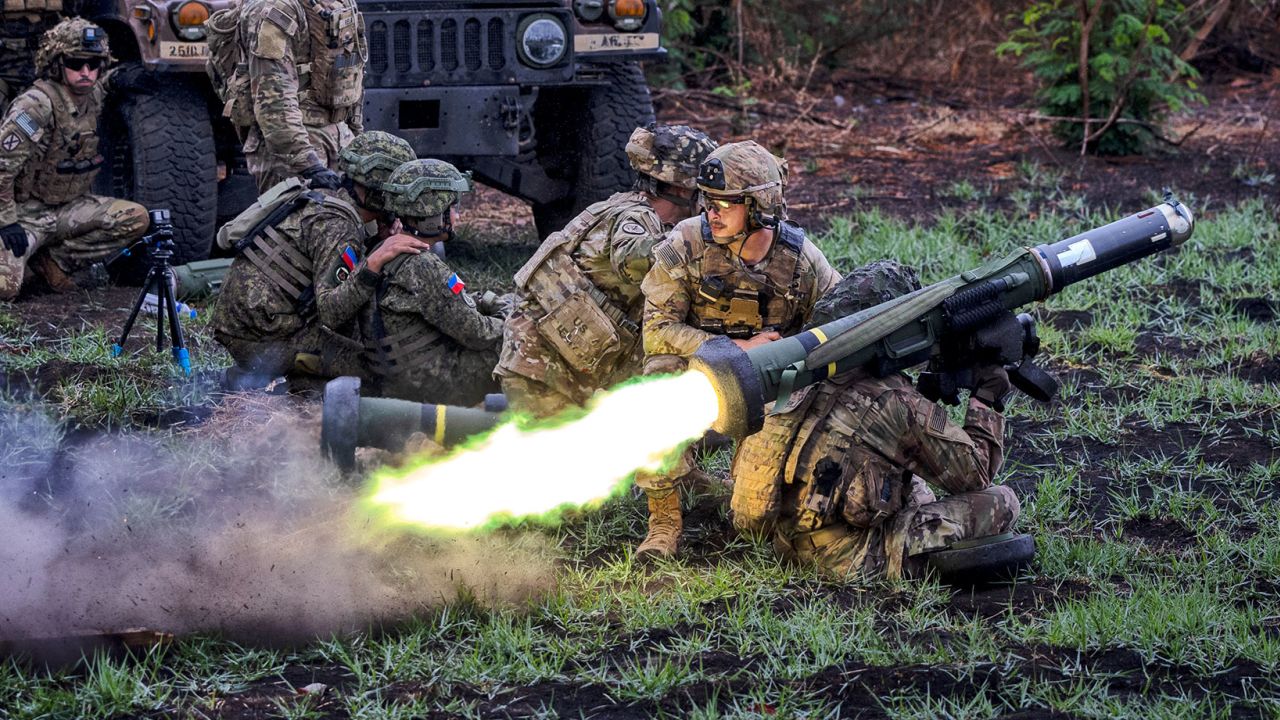 A Javelin anti-tank weapon is fired during a joint military exercise between US and Philippine troops in Fort Magsaysay on April 13, 2023.Ezra Acayan/Getty Images
Lin Ying-yu, an assistant professor from Tamkang University who specializes in military affairs, said that if a contingency stockpile were to be created, it should focus on amassing munitions already in use by Taiwan's military to ensure operational effectiveness.
"I think some of the weapons that the US might be willing to provide include the Stinger and the Patriot missiles," he said. The Stinger is a surface-to-air missile that can be fired by a single soldier, while the Patriot missile defense system is capable of intercepting enemy missiles and aircraft.
Admiral Lee said another weapon that could be stockpiled was the Javelin, a US-made portable anti-tank weapon system that has been widely used by the Ukrainian military to target Russian tanks.
The National Advanced Surface-to-Air Missile System, or NASAMS, could also be useful for targeting Chinese warplanes, he said, as it was capable of firing the medium-range AIM-120 missile from ground level.
Other weapons that should be considered included the loitering munition drone – a so-called "suicide drone" that can be carried by a single soldier and is capable of destroying high-value targets – as well as other anti-armor and anti-ship weaponry, he added.
"If you have a high enough number of these kinds of asymmetrical weapon systems that survive the initial attack, you can keep most of your fighting capabilities intact and stop the enemy from conducting a landing operation," Lee said.
How Many is Enough?
Another question that arises is how many weapons or missiles Taiwan would need to defend itself against China.
Experts said providing a concrete number was difficult because the possible combat scenarios were so varied.
In his book, Admiral Lee wrote that the Chinese military could resort to different options in attempting to bring Taiwan under its control.
In an all-out war, China could fire long-range missiles to destroy Taiwanese infrastructure and military targets before attempting to send its ground troops across the Taiwan Strait.
Other scenarios with limited military action could include an aerial and naval blockade around Taiwan, or the seizure of Taiwan's small outlying islands that are close to the Chinese coast.
However, Lin suggested the number of missiles that Taiwan likely needs would be in the "tens of thousands."
He said one relatively simple way of calculating the number of missiles required involves estimating the total number of offensive military assets owned by the enemy, and the effectiveness of Taiwan's defensive weapons. "For example, if our enemy has 1,000 missiles and we have a success rate of 25%, then we will need about 4,000 anti-ballistic missiles."
In addition to weapons, Taiwan's military could benefit from mobile radar systems that would enable it to receive military signals from the US, Lin added. These would be useful in conducting electronic warfare, as the US military would be able to help identify potential enemy targets even if ground radar systems had been destroyed.
"Even though the United States does not have troops on the ground in Ukraine, it has been able to tell the Ukrainian military where to fire their weapons by sending signals from its electronic warfare aircraft," Lin said. "We need to make sure we have the necessary equipment to link with US military systems at times of war."
There were other reasons the discussions with the US over the possible stockpile were important, Admiral Lee said, and they went beyond issues of storing up ammunition and spare parts.
"(Having a contingency stockpile) is very crucial, because it sends a signal to China that the United States is determined to assist in our defense," he said.
Source : CNN