Canada's National Women's Team is one win away from a third-consecutive gold medal at the IIHF Women's World Championship, and its biggest rivals stand in the way – it will the United States in the final on Sunday night.
Last Game
Canada rode a hat trick from Sarah Fillier to the gold medal game, earning a 5-1 semifinal win over Switzerland on Saturday night. Fillier scored twice late in the second period to finally break a scoreless tie, and added a third in the final five minutes. Jamie Lee Rattray and Rebecca Johnston had the other goals for the Canadians, who outshot the Swiss 59-9.

The U.S. booked its place in the final with a convincing 9-1 semifinal win over Czechia on Saturday afternoon. Hilary Knight and Amanda Kessel had two goals and an assist each, Caroline Harvey had a goal and three helpers, and Tessa Janecke scored twice for the Americans, who pulled away with three goals in less than four minutes early in the second period.
Last Meeting
The teams met Monday night in their preliminary-round finale and, just like pretty much every time these teams meet, it was an absolute thriller. After the Americans scored twice in the last 40 seconds to force overtime and 15-consecutive shooters missed in the shootout, Jamie Lee Rattray tucked in the winner in Round 9 to give Canada a 4-3 victory and a perfect prelims. It was the 100th win all-time for Canada over the U.S.
What to Watch
Fillier continues to leave her mark on international hockey. The 22-year-old was named a media all-star at the 2022 Women's Worlds in Denmark last summer after posting five goals and 11 points, and is up to seven goals and 11 points in six games at this tournament after her hat trick performance against the Swiss. In 20 games across three world championships, the Brampton-born centre has 28 points (15-13—28). A lot of numbers to digest, but they all equate to one thing – keep your eyes on Sarah Fillier.
A big key for the Canadians? Stay out of the penalty box. The U.S. has been deadly with the power play, bringing a tournament-best 52.4% success rate (11 for 21) into the gold medal game. It struck four times in five chances against the Czechs in the semifinals, getting goals from four different players. Overall, eight different Americans have struck with the player-advantage, including two each from Kessel, Harvey and Hannah Bilka.
A Look Back

These two teams have played in some historic matchups over the years — this is all-time meeting No. 176 —including the seven-game Rivalry Series this season and 20 of 21 gold medal games at Women's Worlds. The most recent came last summer in Herning, Denmark, when Brianne Jenner scored twice and Desbiens made a huge save in the dying seconds to a secure a 2-1 Canadian win and a 12th world title.
All-time record: Canada leads 100-74-1
Canada goals: 484
United States goals: 422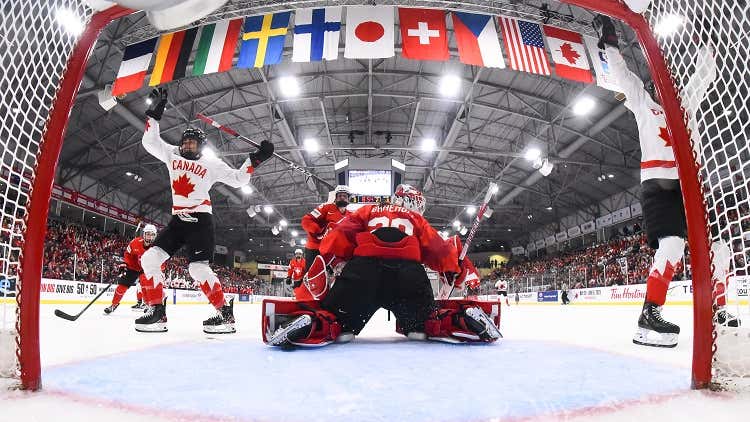 Source : Hockey Canada