My brother and his girlfriend bought the Jeep in sunny Los Angeles and drove it up to Vancouver. The heater worked fine in California – it just didn't like the cold and conked out altogether soon after the border crossing. We should have been concerned, but we were too young to be troubled by reality. Instead, we embarked on a 12-hour roadtrip into the heart of interior British Columbia.
Today, you'd do 30 seconds of research and learn such a trip is ill-advised and even dangerous in January. Temperatures can drop to 30C below. Hazards include black ice, sudden snowstorms, road blocks, avalanches and freezing to death because you bought your car in LA and the heater doesn't work. But pre-internet we learnt our travel lessons the traditional way – in person.
The drive was shockingly cold, yet, somehow, we made it to our destination decked out in all our ski gear and cocooned in sleeping bags. The next morning the car wouldn't start – the oil had frozen.
We had a lot to learn but confidence was never a problem. In February we set off in search of hot springs in an isolated national park. The Jeep waited until we were in the middle of nowhere to break down.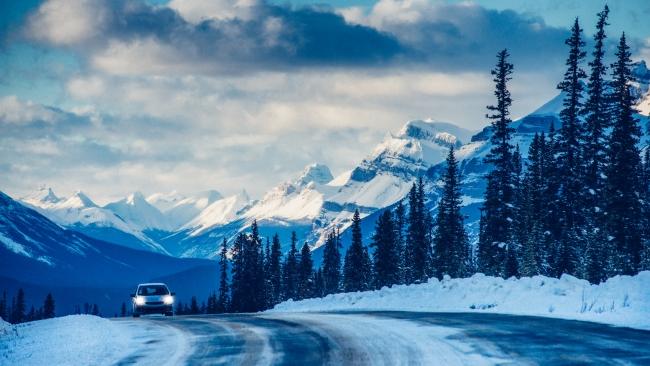 Our saviour was a local hunter named Dave. He was the kind of bloke we were accustomed to prejudging. Dave shot wildlife for sport, felled trees for a living and lived in a small rural town, therefore he was almost certainly a redneck, we hastily assumed. But low on other options, we swallowed our suspicions and hopped right into his muddy pick-up.
Dave drove us back to town and invited us to stay at his house until we could sort out a plan. He took us to a beautiful log cabin, gave us the key to the front door and told us to make ourselves at home. Before he drove off, he mentioned his wife would be home soon. "Just tell her who you are," he hollered while backing down the drive.
And that's how we met Val – sitting in her lounge room, drinking sodas from her fridge, marvelling at the animal heads mounted on her wall, wondering whether she carried a pearl-handled firearm in her purse for just such an occasion.
Happily, Val was the epitome of Canadian small-town hospitality. By the time Dave returned, we had assimilated – sipping rye and Cokes, sharing laughs, tending the fire, feeding the horses and helping with dinner.
We ended up staying three days, and it was a highlight of our Canada trip. Val took us skiing at Panorama Resort. Dave tracked down a mechanic who fixed our Jeep at a local's rate (although the heater remained broken). Our hosts enjoyed hearing about Australia, and we loved getting a local's perspective on the Rockies.
Dave shared great hunting stories. He would follow cougars and moose through snowy valleys for days. He loved being out in the wilderness, working with his hunting dogs. The thrill was the chase and he rarely shot an animal. If he did it was always an old male. He had a great love of the natural world and was, in his own way, into sustainability and conservation. We weren't so different after all.
I didn't realise it at the time, but it was a good lesson for a young person to absorb. Not to judge a book by its cover. To appreciate similarities in strangers rather than look for differences. Especially if they own a heap of guns.
Author and inveterate traveller Mark Twain says it better in his famous quote: "Travel is fatal to prejudice, bigotry and narrow-mindedness… Broad, wholesome, charitable views of men and things cannot be acquired by vegetating in one little corner of the Earth all one's lifetime."
Source : Escape